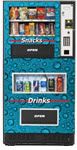 This machine is my best friend. I'm not talking about my computer, I'm talking about the
snack and soda vending machine downstairs where I go when I need some comfort. I'm almost in need of one now...

Just from my patronage alone, I know whoever owns that vending machine is making some money because there are about a hundred more just like me in this building!

The Vending Machine business can be pretty lucrative, I know. One of my best friends had one and he made pretty good money for minimal effort. He goes around to refill his machines once or twice a week and also collects the money during those times. He made as much money from his vending machines as he did from his regular job where he put in eight hours a day daily.

If you're interested in getting a Vending Machine Franchise, check out 1800Vending.com they have machines that are attractive, all-in-one snack and drink center. That means you can have one machine and sell snacks like chips, candies and gum but within that machine you can also sell drinks like sodas, juices, energy drinks and water.

If you've ever bought a snack or a drink from a vending machine, you'll know, without being a math genius, that the mark up on the items are at least 50% some of them 150%. That could only mean profit for you!