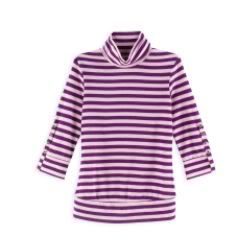 I know most of us want to put winter behind us, we don't even want to think about it anymore. We are all looking forward to the sundresses and espadrilles. We don't want to think of long sleeves, turtle necks or coats, but during these tough economic times, maybe we should. I know I am. I have three girls to clothe and when sales come up like the one Sears is having now, I am all over it.

From now until April 18th, Sears is having a sale on all their fall and winter apparel. You will find discounts of as much as 75-80% off original prices! You can't beat that! For instance, these Bongo Stripe Turtle Necks are only $4.79 each from the original price of $30! My girls and I practically live in shirts like these during the cold weather months so you can be sure I'll be going to stock up on shirts like these even though they can't wear them until the fall. I'll also be looking for coats and outer wear that are on sale. Last year, I got a $60 coat for $19.99! That's the kind of deal I'm talking about!

The deals are so good that they're not going to last long. I'll be at Sears this weekend, how about you?