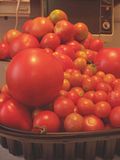 If you're concerned about the things you eat, you've probably heard of phytonutrients. I know, it's a mouthfull :)

I ran across this very informative about phytonutrients and how they can prevent diseases today. From the article, here is a short snippet about what phytonutrients are:


they're found in fruit, vegetables, herbs, spices, nuts, sprouts, and seeds. A single fruit or vegetable may contain more than 100 types of healing phyto­nutrients that basically make up the immune system of the plant. Once eaten, they impart their incredible healing abilities inside your body. The thousands of phytonutrients are categorized into families, including carotenoids, catechins, flavonoids, lipoic acid, phytoestrogens, polyphenols, sulfurophane, and others. Let's explore the phytonutrient families and find out how you can include more of them in your diet.
Click on the link above for more details.
Visit our other blogs:
Amoores.com
Cooked from the Heart - our new food blog
Our New Backyard - garden & photo blog
Found Not Lost - about all the things we 'find' worth talking about