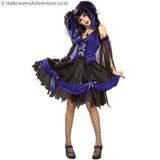 How was your Halloween weekend? Did you don a costume? Or were you like me who was merely a ghoul assistant? My Halloween tasks started a full week before the big day. My girls decided they wanted to make their own costumes so they started the week before, shopping for their materials and patterns. It took them almost all week to cut out their patterns and such. Then the night before Halloween, guess who ended up staying up to finish the costumes? Mom! I was up until 3 a.m.!

Next year, I'll tell them to get their Halloween Costumes from HalloweenAdventures.com instead. They have all the styles they like; my eldest daughter made a lolita costume similar to the one pictured here and of course, my youngest, the Clone, was a witch again. It's the fourth year that she's been a witch! I sure hope she's over that by next year.

My husband was having a fit when my daughter told him what her costume is going to be. She was a gothic lolita. She actually looked really cute, but I think just the mere suggestion of "lolita" being applied to his daughter was giving him palpitations. haha!

BTW, HalloweenAdventures.com is not just for Halloween, you can also order costumes for other holidays like Christmas and Easter. If you're wondering where to get Santa or Elf costumes, this is the place.