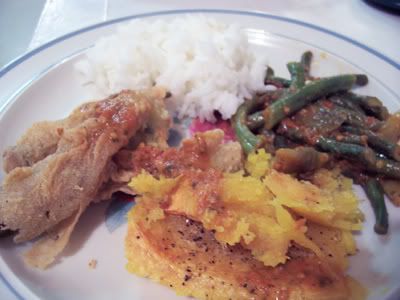 I wish we ate this way all the time. I love vegetables, and I think this plate is perfectly proportioned so you get a balanced meal without overdoing it. This should be the norm rather than the exception in our table. We sure can't afford to get sick, especially the kids.

I just changed employers and as well as the compensation package is at this new job, the medical coverage is still not enough to cover every incidental that could happen in a family where you have two aging parents and three growing kids. When I was young, my mom had her insurance with Kaiser Permanente California. She gave us our own health cards to take care of and when we had to go see a doctor, we can just call to make and appointment ourselves or just go down to the hospital and we'd be taken care of. This was back in the day when we didn't even have to have a co-payment. We just showed our card and we were treated.

Having that health card gave us so much independence especially when it came to teenager stuff. I surely didn't want my mom with me when I went to go get a prescription for birth control pills, for instance. Or the time when something happened to my eyes and they started bleeding while I was at school. All I had to do was go to the hospital and they treated me, stopped the bleeding and sent me on without bothering my mom who was at work.

But I guess times are just different now, aren't they? I don't think I would want my girls to be getting treated without my knowledge or permission. I'm still debating what to do about or how to advice them what to do regarding sexual matters though. I miss Kaiser. We don't have one here where we live. The institution referred to as the 'plantation' is the medical provider in our area. I guess I can understand why Kaiser can't put down roots at the 'plantation'. They do have Kaiser Permanente Colorado and Kaiser Permanente Georgia among other locations. Lucky...

I guess we just have to cross our fingers and hope we don't get sick.