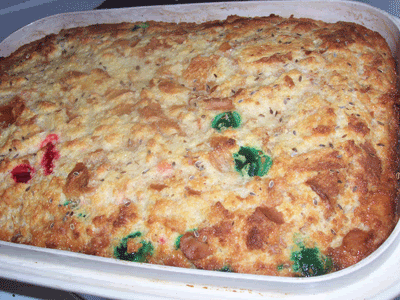 I love bread puddings don't you? Not only is it a great way to use up old bread, it's also delicious and just has that all time comfort food feel. I think it has something to do with the fact that it's creamy, soft and the smell of egg and vanilla just brings back so many memories of one's childhood.

My mom, I think makes the best bread pudding. The thing is, she doesn't have a recipe. She just kind of eyeballs everything as she's making it and for some reason it just comes out really well for her everytime. Now me, I can't just leave things well enough alone. I have to be continually messing with it. So far my experimentation has produced bread pudding with nata de coco (pictured), bread pudding with dried fruits, a Vietnamese bread pudding with bananas, and bread pudding with raisins. Which brings me to one with golden raisins! I found a box of golden raisins in the pantry the other day and I have been itching to put it in bread pudding.

What's your favorite way of making bread pudding?