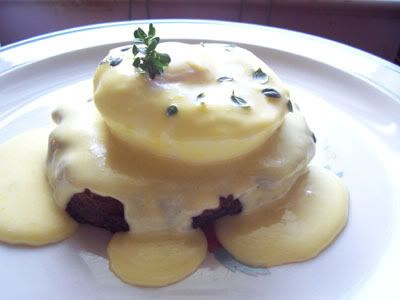 Recipes to Rival is a food blogging event similar to Daring Bakers but instead of baking sweet stuff, the challenge is for savory dishes. I found out about the event last month when they had their first challenge which was Ratatouille. I had to cook it. Now only did it look delicious, it was also the recipe from the movie of the same name. How could I resist? :D
This second time around, the challenge is Thank George's Bank, a recipe from the Black Dog Summer on the Vineyard Cookbook. It is a dish comprised of fish cake, poached egg and hollandaise sauce. While the recipe was a bit daunting (aren't all challenges?), I found that after I did a run through of the entire recipe it got easier the second time around and I found that it really wasn't that bad at all! By the third time I made the recipe, I didn't even have to look at the recipe.
Check out the recipe and see what you think...
Visit our new blogs:
Amoores.com
Cooked from the Heart - our new food blog
Our New Backyard - garden & photo blog
Found Not Lost - about all the things we 'find' worth talking about