I have seen food bloggers participating in the Four Foods on Friday meme for a while now and I have been meaning to participate, but I just haven't had the time or just not been organized enough to post on Fridays. Anyway, this is the 30th edition of FFOF, but this is my first, so here goes. All you have to do to participate is answer the following questions:

#1. What's your favorite white beverage? If you don't have one, what's your favorite beverage with something white in it?
My favorite white beverage, although more on the cloudy white rather than pristine white spectrum, is coconut juice. NOT coconut milk the white stuff that is rendered by pressing the mature flesh of the coconut, I'm talking about the naturally sweet and refreshing juice that bursts out when you cut open a young coconut.

#2. What's your favorite white gravy, sauce, condiment, dressing or topping?
Bechamel Sauce. Learn how to make this one sauce and you can do just about any other sauce there is. If you're still wondering what makes the greatest mac and cheese recipes great, it's this sauce. It is the starting point for a great cheese sauce to lather your macs with.

#3. What's your favorite white item from the refrigerated section?
Cheese. Jack, mozzarella, swiss, provolone, cheddar, brie, feta, parmigiana, and on and on...

#4. Share a recipe for something white.
Try these delectable delicacies called Puto or rice cakes.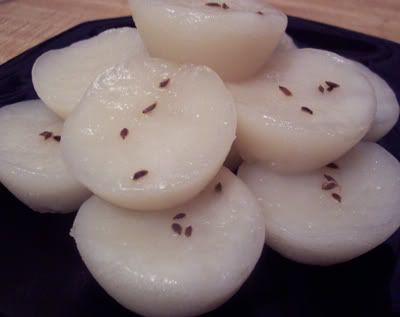 Visit our new blogs:
Amoores.com
Cooked from the Heart - our new food blog
Our New Backyard - garden & photo blog
Found Not Lost - about all the things we 'find' worth talking about