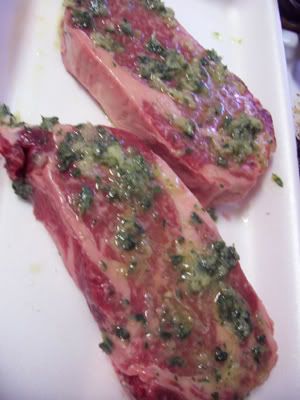 This happens to me all the time. I start taking pictures of a dish then when it comes to the final photo, I forget because I'm too busy stuffing my face! That's what happened with these steaks. They were delicious and grilled just right, medium rare.
While the grill is setting up, marinate a couple of steaks (ribeyes in this case) in some chopped garlic, parsley, sage and thyme; juice from half a lemon, two tablespoons of olive oil and season with kosher salt and freshly cracked pepper. Grill over medium hot coals until medium well, about seven minutes each side.
Serve with your choice of sides. Ours was served with baked potatoes and cucumber & tomato salad from the garden.
src="http://pagead2.googlesyndication.com/pagead/show_ads.js">