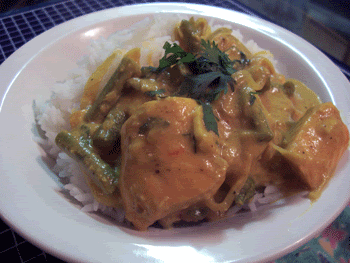 Tired of turkey? We are, so something decidedly different in flavor in texture is in the works. We cooked this batch of fish curry sometime ago, but we'll be duplicating this tonight. I had thought I posted this already, but when I came back to my blog to check the recipe, I realized I hadn't posted it yet! So here, I'll revisit the recipe with you. As I am typing this, I'm starting to wonder how curry would fare with the turkey....but, I better not push my luck with these folks. They loved the brined turkey I fixed for thanksgiving, but I think they'll thunk me in the head if I put anything turkey on the table one more time. I'll sneak in turkey soup on them tomorrow ;)
INGREDIENTS:
2 lbs salmon fillets (or any firm fleshed fish of your choice), skinned
1 teaspoon sea salt
1 onion, sliced
2 Tbsp. oil
1 inch piece of fresh ginger, sliced into strips
3 cloves garlic, chopped
1 tsp. ground coriander
1 tsp. ground cumin
1/2 tsp. ground turmeric
2 small, red hot chili peppers, sliced
1 tsp. chili paste
2 Tbsp. tamarind concentrate
1 Tbsp. tomato paste
2 cups coconut milk
1 Tbsp. fish sauce
1 tsp. sugar
2 cups of green beans cut into 1 inch lengths
torn cilantro leaves for garnish
Cut the salmon into bite sized chunks. Rub with 1/2 tsp salt and set aside.
Heat the oil and saute the onion, ginger and garlic until fragrant. Add the rest of the spices and sauces (except for the fish). Also add the green beans at this point. Stir, and bring to a simmer. Let it cook for ten minutes for the flavors to blend. Taste and adjust the seasonings. You may have to add a little bit more tamarind or chili paste depending on your preference.
Add the fish and simmer for about 5 minutes or until it is cooked. Serve over rice with cilantro on top.