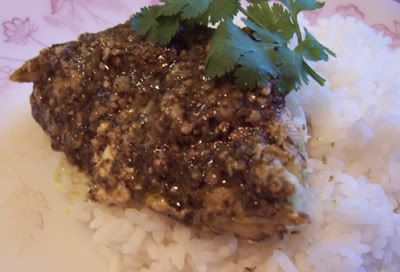 Here's another tilapia recipe that's become a favorite In Our Kitchen especially now that the weather is warmer and the garden is again reaching its peak. Our basil is not quite ready to harvest for pesto yet, but in about a month, we'll be making this dish again.
It's a different way of making fish (you can use your favorite type of fish) and best of all, it's not fried!
It's also very easy to make. Here's how you make
fish in pesto...
Visit our other blogs:
Amoores.com
Cooked from the Heart - our new food blog
Our New Backyard - garden & photo blog
Found Not Lost - about all the things we 'find' worth talking about