Happy St. Patrick's Day! Did you get your dose of corned beef and cabbage today? I didn't and it makes me sad. It's become a tradition with us to have our annual dose of corned beef on St. Paddy's day even though we're not Irish. But, it was not to be. Our water line caught a leak and so we don't have any water in our house today and that means that we can't cook. So instead, we got some teriyaki chicken take out which wasn't bad. It will do, but it still sucked that we don't have water.

So we took our take out home all ready to sulk when lo and behold, there on our doorstep sat a green box! And guess what was inside it...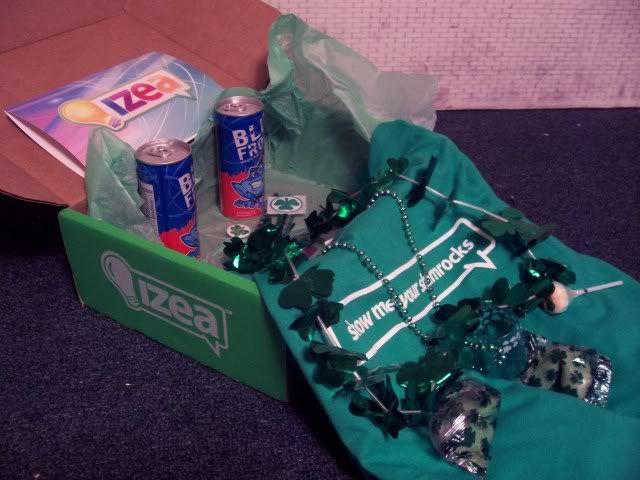 I finally got an
IZEA Swag
box! Oh, I have been waiting patiently for this while trying not to be too envious of other bloggers who showed off their loot on their blogs. So we donned our clover leis, the green beer mug bling, the buttons, the tattoos and decked in our St. Paddy's regalia, the blue frog on our side, we settled in front of the TV and watched American Idol. Ah, heaven!! Go Anoop! :D Oh hush, I know... it's so un Irish!
Visit our other blogs:
Amoores.com
Cooked from the Heart - our new food blog
Our New Backyard - garden & photo blog
Found Not Lost - about all the things we 'find' worth talking about