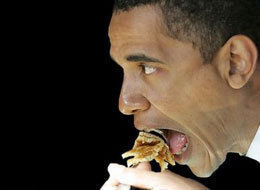 This year was a historic milestone in politics. We finally have a black president in office. For this country, that is astounding. President Barack Obama is making huge impacts on this country already even before he took office last week.

According to this article, he may even affect the way we eat and that's a good thing. The article suggests these four areas may be subject to change under the new administration.

1. He's expected to support local and organic farmers
2. Food prices may go down…or up
3. Food safety should improve
4. School nutrition will be in the spotlight

From what we already know of the President, he seems to follow a pretty healthy diet. He doesn't eat a lot of sweets and favors simple and fresh foods. Whether the President causes our eating habits to change or not (I'm sure nutrition and agriculture aren't on the top of his to-do list right now) just the fact that people are noticing and waiting is already a good sign to me.
Visit our new blogs:
Amoores.com
Cooked from the Heart - our new food blog
Our New Backyard - garden & photo blog
Found Not Lost - about all the things we 'find' worth talking about