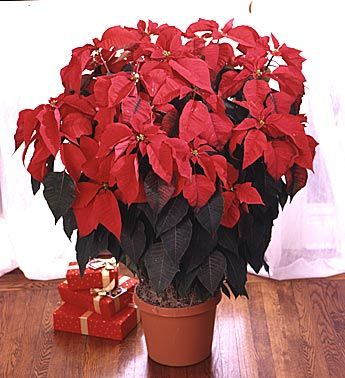 Flowers make everything more festive and colorful. That's why we have flowers for just about every occasion in our life. I fact, I can't think of an occasion when there isn't some kind of a flower arrangement or other.

Christmas is especially a time for flowers. Christmas is a holiday for all the senses; the smells, the sights and the feeling of Christmas stays with you forever. One of the symbols of Christmas that I always try to have is poinsettias. Even that one Christmas when I didn't have a Christmas tree, I at least had to have a poinsettia on my table. Of course, there are many other Christmas flowers out there, but for me, the poinsettia just says Christmas through and through to the point that when I see it outside of Christmas season, it just seems out of place.

Every Christmas, my sisters and I send my mom and a couple of special aunts flowers. I just seemed like a great idea when we started doing it a few years back. They get flowers for mother's day, valentine's day and on their birthdays and they always love getting them. But no one ever sends flowers for Christmas do they? Well I thought Christmas is just the perfect time to give someone flowers! Why not? And what's more, not only do the flowers express your affection, they can be shared with others during the holidays as more households get more guests during this time than other. My mom and aunts certainly appreciate it.

So if you have a special someone that you don't know what to get for, consider sending them flowers. 1800flowers.com makes it convenient to order your arrangements and deliver them for you.