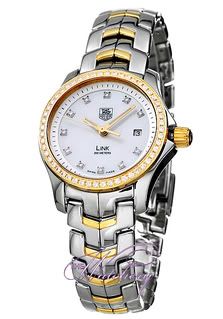 I had one of these. Not a real one though and it died on me after a couple of months. Yeah, I know, you get what you pay for. I still want one and the real one this time.

So the campaign is on. Christmas is coming up, then Valentines Day, then my birthday. I have plenty of chances of getting one of these Tag Heuer watches this year. Forget about unreliable vendors, I'm directing Santa straight to the Watchery. They have a huge selection of designer watches and luxury watches in all the famous brands you know like Tag Heuer, Patek Philippe, Cartier, Bulova and many others.

I love the watch designs that are not too fancy, something that straddles practical and elegance like this Tag Heuer watch. I don't really like changing watches when I go from day to evening wear. I want something that I can wear everyday and also be able to wear it on dressier occasions.

I have no doubt that my campaign will be successful. Besides, if it starts looking like a losing battle, I have one more ace in my pocket. I can always strongly suggest a matching tag heuer formula 1 watch for men. That should do the trick, don't you think?