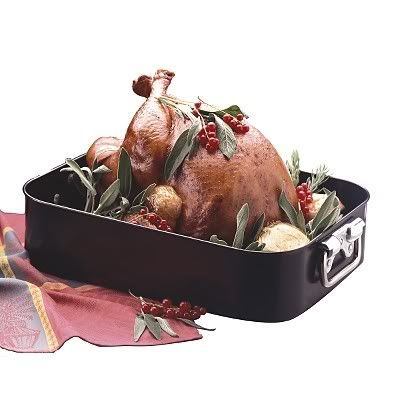 I went and bought two turkeys today. They were on sale at the grocery store for $0.39/pound. So a 14 pound turkey came out to just a little over $5. The two turkeys I bought? Less than $12. Great deal, eh? I just love running into these types of deals and I just love my deep freezer!

Another great deal going on right now is this 8 piece Basic Essentials Roaster, perfect for roasting not just turkeys but also pork, beef and whole chicken. For a limited time only (11/5 to 11/8) you can get this roaster for $4.99 after $10 mail-in rebate. I have one that I bought at Sears a while back and it's still going strong. I'll be putting it to good use in a couple of weeks when I cook our Thanksgiving turkey. Buy good quality cookware and you'll have them for many years and many uses to come.

Right now, Sears is having a great Cookware and Bakeware Sale. It's a perfect time to pick up something special on your holiday gift list. Sears carries only high quality brand names such as Braun, Kenmore, Cuisinart, Oster, etc. Items such as blenders, juicers, coffee makers, mixers, toasters and more would also make a perfect hostess gift for the holiday parties you plan to attend.

I for one would love to pick up some more baking gadgets especially cake pans and cookie pans to complement my attempts at learning to bake more than my usual chocolate chip cookies. Ever since I joined the Daring Bakers I have been stretching the baking limits of my kitchen. I really need to stock up soon. Or maybe I'll just make a wish list and hope someone takes advantage of the pre-holiday sales.