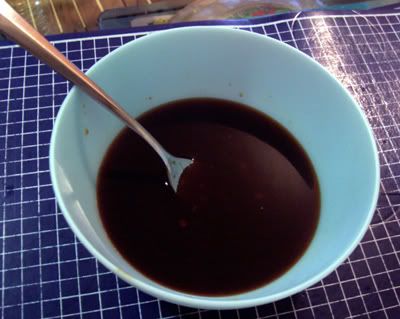 We do a lot of stir fries in our kitchen. With me working and not getting home until 6 in the evening, a quick stir fry is always a great way to get dinner on the table in no time. Making a cooking sauce was my daughter Jade's idea.
My usual way used to be to add the seasonings and sauces as I was cooking. Doing it my way was hard for the girls to follow though. It turned out, if you put all the sauces together, pre-measured into a bowl and just add it to the dish as you're stir frying, saved a lot of time and confusion.
So now, right before stirfrying, Jade puts her cooking sauce together. Like a true cook, she's protecting the proportions (or she just doesn't know) but the basic ingredients are: soy sauce, teriyaki sauce, hot sauce, minced ginger, minced garlic.
Experiment with your own cooking sauce and see what works best for you. If your sauce needs thickening, you can also add cornstarch to your cooking sauce.
Visit our new blogs:
Amoores.com
Cooked from the Heart - our new food blog
Our New Backyard - garden & photo blog
Found Not Lost - about all the things we 'find' worth talking about