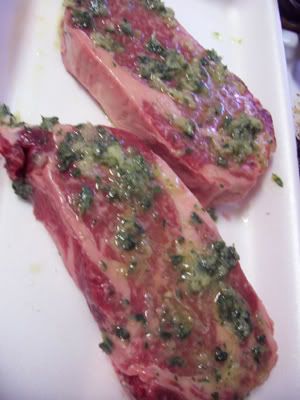 Ever heard of Steak Tasting? No? Me neither. But the same blog that I got the tip on how to cook cheap cuts of steak from just attended a artisan steak tasting and not only did she write a great post about the different steaks they tasted, she is now also sharing it with her viewers!

All you have to do is go and leave a comment on the steak tasting post and your name will be entered in a drawing which will be conducted on November 9. If you're the lucky one to get picked, they will send you the following sampler pack.


The four styles included in the Artisan Steak Tasting Pack:




Dry-Aged Charolais-Cross, Front Range Region, CO, Elliott & Ferris Family Ranches
Dry-Aged 100% Black Angus, Russell Country, MT, N-Bar Ranch, Dave Workman
Wet-Aged Holstein-Friesian, Imperial Valley, CA, 3 Brand Cattle Company, Bob Beechinor
Wet-Aged Wagyu-Angus Cross, Select Kobe Beef America Ranches, directed by R.L. Freeborn


pack normally sells for $84.95, you get a 8-12 ounce NY Strip cut of each style.

Visit our new blogs:
Amoores.com
Cooked from the Heart - our new food blog
Our New Backyard - garden & photo blog
Found Not Lost - about all the things we 'find' worth talking about