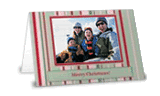 It's almost that time of the year again that is dreaded and looked forward to at the same time. Yep, I'm talking about Christmas. It's time to dust off our lists and start looking it over and updating it. If you are one to write an annual family newsletter, then it's time to start gathering your material.

I for one like photo christmas cards. They are easy enough to personalize without having to agonize over a newsletter. I like the cards that you can just insert photos in, but of course the customized cards and postcards where your photos are printed right on are great too. I like getting these photo cards from people too. Some family and friends we don't see during the year at all, so it's nice to sort of catch up on how big the kids have gotten, who dyed their hair, who went on a fabulous trip, and so on.

So take your family pictures now or pull out that great picture you took over the summer and have them made into cards. One great place to get your photo cards done is Vista Print. They have a variety of layouts and designs to choose from and if you act now you can take advantage of their discounted prices. They can turn your order around in as little as three days so you can get started mailing them out right away.

Use the coupon code: XmasFree when you order and receive 10 Free Holiday Cards.