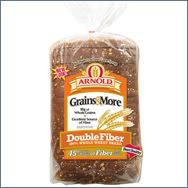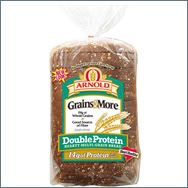 There is a new line of breads from Arnold called Grains and More. They have a delicious taste and texture and are made with whole grains without the use of high fructose corn syrup. You can tell this right away from the taste.

I have to admit that I haven't been buying too many whole grain breads because the family usually don't like the hard grains and the bread ends up molding and I have to throw it out. I had a chance to try out two loaves of these Grains and More breads; the double fiber and the double protein variety. The whole family loved them! They raved about how freshly baked it tasted and smelled, and no one complained about the grains! They actually said they liked this brand better than the ones I've been getting because it had more body. Sure enough, when I made a sandwich with it, the bread didn't get smooshed nor did it get stuck on the roof of my mouth. It was delicious too!

The 4 varieties of Arnold Grains and More are:

Arnold "Grains & More" Double Protein Hearty Multi-Grain Bread


Protein is used to build, maintain and repair body tissue, and provides a source of energy and controls many of the important processes in the body related to the metabolism. Numerous studies show that people feel more satisfied and eat fewer calories after having meals rich in protein.



Arnold "Grains & More" Double Fiber 100% Whole Wheat Bread


Fiber is essential in maintaining a healthy digestive system. It can assist in weight management by helping you stay satiated longer. A high-fiber diet can lower the risk of developing certain conditions such as heart disease, high cholesterol, cancer, diabetes and diverticular disease.



Arnold "Grains & More" Double Oat Hearty Oatmeal Bread


Plant sterols, naturally found in vegetables, fruits, nuts and seeds, may help to reduce the risk of coronary heart disease when eaten as part of a diet low in saturated fat and cholesterol. Oats are the only whole grain recognized to actively lower cholesterol.



Arnold "Grains & More" Double Omega Multi-Grain & Flax Bread


Omega-3 fatty acids may aid in cardiovascular health. Promising preliminary evidence reveals that omega-3 supplementation might be helpful in coping with depression, improving immune function maturation and reducing joint pain.
Visit our new blogs:
Amoores.com
Cooked from the Heart - our new food blog
Our New Backyard - garden & photo blog
Found Not Lost - about all the things we 'find' worth talking about