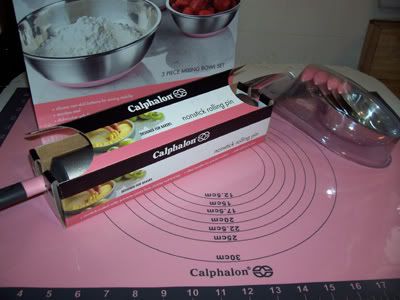 I'm always muttering about how
things come just when you need them
. So how apropos is it that this beautiful baking set comes to me just when I joined the
Daring Bakers
? This was my birthday present from my sister this year. How awesome is that? I had a set from Tupperware that is over fifteen years old. The rolling mat is so scarred from all the cutting done on it, it's starting to dry out on the edges, and it was starting to get that old plastic, gummy feel to it. Same thing with the measuring cups.
I was really excited to get this set. That rolling mat is just awesome. It didn't move an inch the whole time I was using it to roll out my
wonton wrappers
. And that rolling pin? Man, that thing is deadly. It's professional heavy but rolls around like butter :)
I also like the metal measuring cups and bowls. I know I'll have them for more than 15 years. If those tupperware plastic cups can last that long, you know these will!
Calphalon Mixing Bowl Set 3-pc.
Calphalon Measuring Cup Set 4-pc.
Calphalon 16" X 24" Nonstick Rolling Mat
Calphalon Rolling Pin
Visit our new blogs:
Amoores.com
Cooked from the Heart - our new food blog
Our New Backyard - garden & photo blog
Found Not Lost - about all the things we 'find' worth talking about