I just ran across these delightful photos of food sculpture photographs created by a husband and wife team. According to Paintalicious,


This is the first major solo United States exhibition of works by the Paris-based artists, Pierre Javelle and Akiko Ida, featuring a selection of works from the MINIMIAM series of diptych photographs created between 2002-2008.
...
Pierre Javelle and Akiko Ida have morphed multiple genres of photography, including micro-photography, culinary art, portraiture and landscape. The theme involves action, ranging from sporting scenes to warfare, taking place in carefully staged, fantastic, food settings. In each diptych, the first image introduces the subjects in an uncertain setting. The second panel reveals the scene in totality, to an unexpected, often amusing end.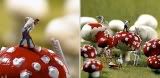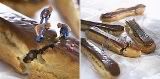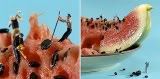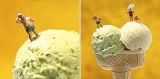 Aren't they cool? Click on the photos for a larger version.
Visit our new blogs:
Amoores.com
Cooked from the Heart - our new food blog
Our New Backyard - garden & photo blog
Found Not Lost - about all the things we 'find' worth talking about