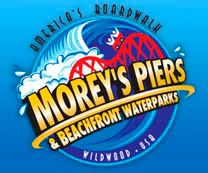 The summer is not quite over yet. There are still enough warm days to make a family beach vacation. By mid October, Morey's Piers in Wildwoods, New Jersey, will be ending the season. If you're in the east coast, New Jersey is within a day's drive from its neighboring states. Yep, I'm thinking me here in N.C.

Morey's Piers owns the largest amusement park operation in New Jersey, running three amusement piers and two waterparks in Wildwoods. My girls are wild about water parks and Wildwoods has two of them! Ocean Oasis Waterpark and Beach Club and Raging Waters both offer a variety of rides, slides and amenities to please everyone in the family from the youngest to the oldest. And what kid doesn't enjoy amusement parks. They have three of them! What could be better than a roller coaster by the beach. I for one am happy enough with the carousels and bumper cars. Whatever type of amusement ride excites you, they have them in Wildwoods.

Visit the Morey's Piers website now to take advantage of their weekly specials offered. They also offer a listing of wildwood hotels motels nearby. Don't put off that one last fun in the sun, visit the website now and make your reservation.