The thing with food blogging is that you not only share your love of food, you also learn to present them attractively. Well I love food and I love anything and everything to do with them that's why blogging about food is perfect. However, presentation and photography is still a problem for me. For one, I don't have the proper tools. I need a better camera and I also need better dishes.

I don't like ornately decorated tableware, they just don't go well with our casual lifestyle. I tend to go for the modern and minimalist look. That's why when I saw this NewWave Caffe design line from Villeroy & Boch my imagination started running away from me. Oh the possibilities! We love coffees and teas so these gorgeous cups would be perfect for that, but with their beautiful lines, you almost can't relegate them to just coffee and tea! I'm thinking we can use these to serve soups for instance. My daughters have been into blended soups lately and these cups and saucers would be just the perfect serving pieces to showcase them, served with a piece of toasted garlic bread or crackers on the side.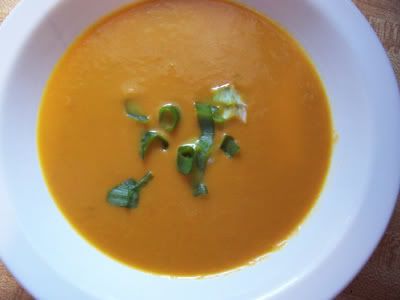 Can you just imagine this carrot soup in that mug, for instance? It looks downright pitiful now in that plain white bowl. How elegant it would be in that beautiful white mug. You can look downright professional presenting something as simple as this carrot soup. If you'd like to make it, here's all you have to do:


INGREDIENTS:
4 medium sized carrots, washed and chopped
1 small onion, chopped
2 cloves garlic, chopped
1 large stem of celery, chopped
1 Tablespoon Olive Oil
6 cups vegetable broth
Salt & Pepper to taste

Heat the Olive oil and saute' the garlic and onions until they are fragrant. Add the carrots and celery and cook for a couple of minutes. Add the broth and bring to a boil. Cook for fifteen minutes at a simmer until the carrots are soft. Season with salt and pepper to taste.

Before serving, I used an immersion blender to puree the carrots and smooth out the soup. You can also use a regular blender to puree your soup. Just make sure you cover it loosely so that the heat won't make the orangey soup explode all over your kitchen. Not like I've done that before or anything, I just heard it could do that.

If you like you can also swirl in some cream at the last minute, but the soup was great without the cream or the extra calories.
Check out the Villeroy & Boch website for the NewWave Caffe pattern and other equally elegant patterns for your next dinnerware purchase. If you order before the end of the month, you can get 50% off on the NewWave Caffe and NewWave Dinnerwares.