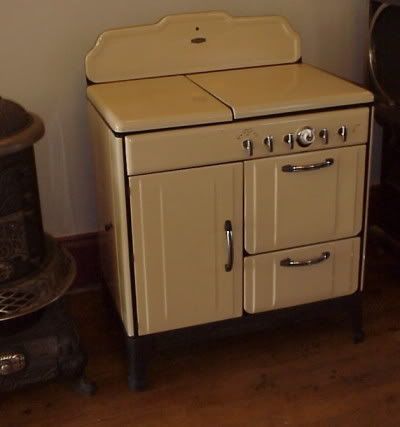 My husband loves antiques and anything old and I guess it's rubbed off on me some. My mother in law had an old stove that held great sentimental value for her because her first husband, my husband's father bought it for her. After she died, this stove was still in her house, left to the family to do what they will.

Unfortunately, all my husband's sisters didn't want it in their houses as they all have their preferred stove to go with their modern kitchens. It just didn't go with any of their decor. My husband and I would have loved to have it in our house, but we couldn't afford to restore it and so it sat in storage for the last couple of years.

But now, after paying storage fees for two years, the family has decided to let go some of these material things no matter how sentimental the value is. It just is no longer cost effective to keep hanging on to them. My husband took some things from storage and took them to local antique stores but of course they won't give you what the items are really worth. We've also posted some items on eBay, but as you know if you are an eBay user, the service to list items for sale is no longer free. You now have to pay a fee but still have to manage transactions and shipping. It's just something that none of us, with our day jobs and busy lives, have time to do.

If you are in the same situation as us, it may be worth checking to see if there is a iSold It near you. If you have a valuable item to sell but don't want the hassle of listing it yourself, consult with iSold It and they will appraise your item for you to get the highest price possible and they will do all the hard work. They will list it, handle the transactions and when your item is sold, you get a check! Easy and hassle free.