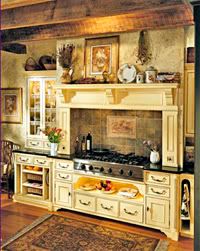 I have a very small kitchen in a very small house so my recurring fantasy is to someday have a dream kitchen, the likes of which you only see in magazines. It would be a cook's kitchen in the Tuscan style with plenty of room for family and friends to hang out in. Oh wait, there I go dreaming again...

I get that way when I start browsing through kitchen designs like those at EW Kitchens. They have a team Kitchen Designers who will work with you from conception to completion in order to attain your dream kitchen. A sampling of their designs are available on the website and they range from traditional to contemporary including a category they refer to as transitional where the best elements from the traditional and the contemporary are blended to make a truly unique look.

If this is your first foray in kitchen design, they have a very informative resource center where you can learn the things you need to know when designing a kitchen and the questions you should ask when hiring a designer. They say that "luxury is not all about the price tag" and I agree. With good planning, excellent resources and an open mind, you can achieve the kitchen of your dreams and perhaps even more.