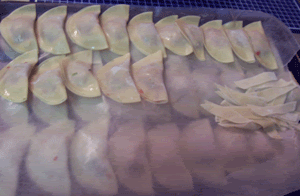 Potstickers are really very easy to make, and they are great to have in the freezer for the times when you need a quick snack or a quick and easy meal.

They can be steamed, boiled, fried or dropped into soups. Whichever way you prefer to have them, they are delicious and very easy. When you make your own potstickers, you can also make them more healthy by adding veggies and using better quality meats. Best of all, you can customize the flavors to suite your palate and pocket book :)

Click here for the recipe...