Every year, I look forward to the time when I can make a BLT (Bacon, Lettuce and Tomato)sandwich with tomatoes from our garden. Ever since the tomatoes from Our Backyard started ripening, BLTs have been a ritual lunch fare. However, while bloghopping I came across this idea from the indadvertent gardener of making BLGT (Bacon, Lettce, & Green Tomato) sandwiches. When she made her BLGT, she also made Lemon Basil Aioli which I also copied and it paired perfectly with the BLGT.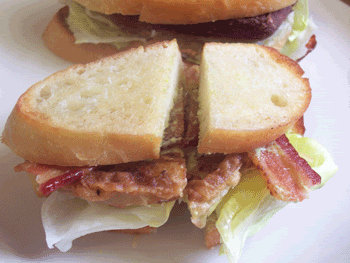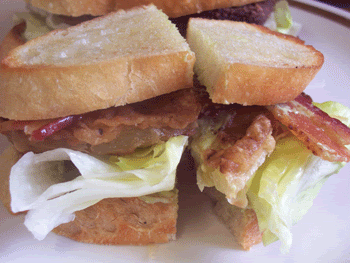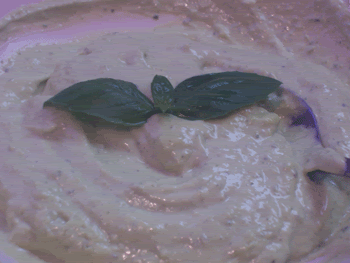 These sandwiches were made by frying green tomatoes which were first sliced, dipped into beaten eggs then dredged in a mixture of flour, cornmeal, and salt and pepper. I used toasted french baguettes slathered with basil mayonnaise then layered fried green tomatoes, lettuce and bacon. These sandwiches were to die for mainly because of the basil mayonnaise which we have used for other things since this time. Here is my version of the BASIL GARLIC AIOLI:
2 egg yolks
2 garlic cloves
1 teaspoon dijon mustard
2 Tablespoons Lemon juice
1/3 cup canola oil
1/3 cup extra-virgin olive oil
3 Tablespoons chopped basil leaves (fresh)
1 Tablespoon boiling water
In a blender or food processor combine the egg yolks, garlic, dijon mustard, lemon juice and basil leaves. Process until everything is chopped up and blended then add the hot water. This will help 'cook' the yolks. Add the basil leaves and process until combined, then slowly drizzle in the oils while the blender/processor is running. Pour in a slow steady stream (be patient) until all the oil is incorporated. By this time, the aioli should have the consistency of loose mayonnaise. This can be stored in the refrigerator for about a week, but if you are like me, you will find ways to use it in about 3 to 4 days.
Another variation on the BLGT sandwiches is the LPLGT sandwich or
LIVER PUDDING, LETTUCE, AND GREEN TOMATO SANDWICH
I discovered that I actually like this version better than the BLGT. The fried liver pudding just pairs perfectly with fried green tomatoes and enhanced by the basil aioli. I know many of you will probably have never heard of liver pudding. I didn't know what it was either until I moved to North Carolina. Liver pudding is liver mixed with cereals and spices and it is another Southern delicacy. The flavor is quite mild and does not have a strong liver flavor.
The Clone
who will not eat anything with liver has actually eaten liver pudding, without knowing what it was, and enjoyed it! Of course, we didn't tell her what she ate ;-)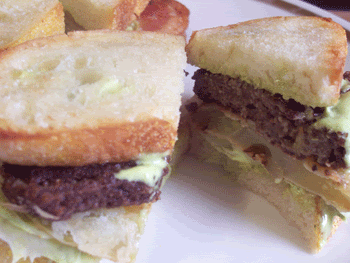 Want to know what liver pudding is? The brand that we get here in North Carolina is called Neese's. They also make excellent country style sausage without the casing. To find out more about their products, visit their website:
http://www.neesesausage.com/