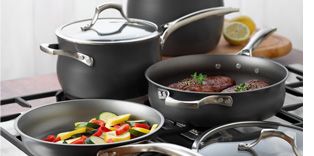 A cook's wish list is always evolving and expanding so if you have a cook on your Christmas list, make sure to get them the latest gadget but you've got to get good quality. Most cooks are particular about the utensils they use in the kitchen. They want high quality stuff even if they have to wait for years to get them.

One place to get some of the best quality cooking utensils at discount prices is Cooking.com. They carry some of the best brands like the Calphalon pots and pans pictured above, Forschner Victorinox, Viking, Kitchen Aid, Cuisinart and Swiss Diamond to name a few. They carry everything a kitchen could need from cookware, silverware, china to just about every kitchen gadget imaginable.

When you shop online, you now can find all sorts of deals including Cooking.com coupons. So start shopping early and save even more by avoiding high shipping costs.