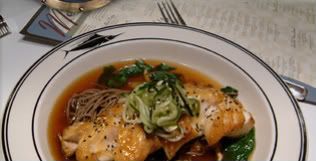 I love seafood! Unfortunately, we've had a hard time finding a good seafood restaurant here in our area of North Carolina. Sure, there are plenty of restaurants around, many of them serve seafood, but not one of them a truly memorable seafood experience.
The Oceanaire is a
fine dining restaurant
fashioned after a classic 1930s ocean liner, giving that classic ambiance of being in the middle of the ocean and partaking of its bounty. Their seafood is flown in daily and they claim to use only the freshest 'catch of the day' available from top seafood suppliers. By following what is fresh and available from the ocean, their menu changes constantly. You may not always get what you had last time, but you will always get something fresh and delicious.
Oceanaire has locations all over the country. Luckily, there is one here in N.C., at Charlotte so you can bet we'll be checking them out soon. One of the features offered by the restaurant is their ability to accommodate private parties and corporate events at any of their locations nationwide.
Private Dining San Diego
? They can help you with that. Or maybe you're looking for a venue for
restaurant corporate events Atlanta
. Whatever your needs, check the Oceanaire website for a unique solution.