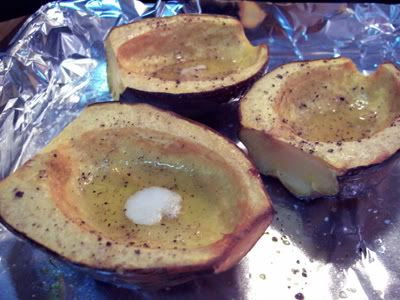 Our
garden
is now officially dead for the winter save a few herbs and greens. What we have now are the last of the squash. They should hold for a couple of weeks, at least until Thanksgiving. I'm hoping the
acorn squash
, especially, will hold until then because I want to back some more up for Thanksgiving.
Baking an acorn squash is the easiest way to cook it, I think. You don't have to peel it, which can be a pain in the butt, all you do is half it, take the seeds out, season it, bake it and it it. I baked these babies when I made some
spicy sitaw
(long beans) from our garden. The sweetness of these squash provided just the right contrast and as you can see in the photo below, the vegetables were so good on their own that you didn't even miss the meat.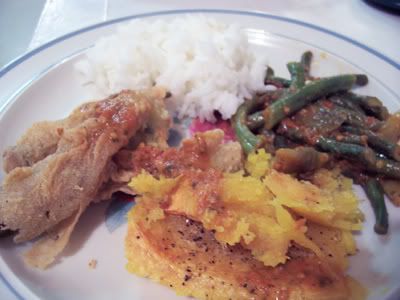 To bake the acorn squash, simply sprinkle each half with coarse salt & freshly cracked black pepper. Drizzle with olive oil and bake at 350 degrees F until tender, around 30 minutes.
The other vegetable on the plate is
fried okra
in case you were wondering.
Visit our new blogs:
Amoores.com
Cooked from the Heart - our new food blog
Our New Backyard - garden & photo blog
Found Not Lost - about all the things we 'find' worth talking about