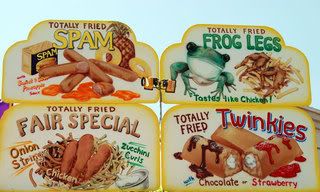 Photo credit: LAist photo essay

It's supposed to dip down to the 60's today, 40's by nightfall. It's getting cooler and the leaves are changing colors. They are falling. It must be fall and that means it must be time for the country fair!

I love going to the country fair mainly for the food. Some of my favorites are fried, I must admit. After all, that is what the fair is famous for. No, they're not popular because of the rides, attractions and exhibits! People go to the fair to see what's frying up this year.

Every year it seems that they come up with something new to fry. Me, I'm perfectly happy with the funnel cake and maybe the seasoned fries. OK, maybe the onion rings too. Corndog if they're the good kind. Oh and just to balance it out sometimes I get fried zucchini. Makes me feel less guilty, you know?

Now if you're going to the country fair or the state fair this year, keep a look out for some of these fried items that have been known to pop up at these shindigs:


Snicker's Bar, Milky Way
Twinkies
Frog Legs
Apples
Strawberries
Bacon
Spam
Squid - yumm! haven't seen this at our state fair yet though
Moon pies
M&M ?
Snake
Alligator tails
According to this list of
List of Weird Fried Foods
, Bacon is the weirdest!
Fernie's All-American Fried Grilled Cheese Sandwich. White bread sandwich with American and cheddar cheeses dipped in egg-and-milk batter, coated with bread crumbs, and fried.

Chicken Fried Bacon. Bacon with seasoning, battered, breaded, deep-fried, served with ranch or honey mustard sauce.

Fried Banana Split. Banana and honey peanut butter rolled in balls, battered, and deep-fried, topped with powdered sugar, caramel and chocolate syrups, peanuts, whipped cream, banana split-flavored ice cream bites, and cherry.

Texas Fried Jelly Bellys. Jelly Bellys rolled in funnel cake batter and fried.

Deep Fried S'mores. Marshmallow and chocolate chips sandwiched between two graham crackers, dipped in batter, fried, and dusted in powdered sugar.

Fire & Ice. Pineapple ring, battered and deep-fried, topped with banana-flavored whipped cream that's been frozen in liquid nitrogen so it smokes.

Fried Chocolate Truffles. Dark chocolate truffle rolled in cocoa powder, battered, deep-fried, dusted in cinnamon, sugar, and cocoa powder.

Chocolate-Covered Strawberry Waffle Balls. Strawberries in chocolate shell, dipped in waffle batter, deep-fried, custed with powdered sugar, served on a stick.
You got anymore to add to the list?
Visit our new blogs:
Amoores.com
Cooked from the Heart - our new food blog
Our New Backyard - garden & photo blog
Found Not Lost - about all the things we 'find' worth talking about