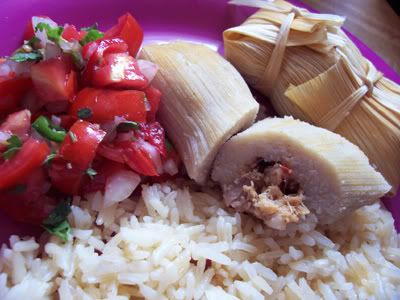 Tamales is the theme for Recipes to Rival for August. This was my first time making tamales. That's the great thing about joining these cooking challenges, they force you to try something you wouldn't have the nerve to try in the first place. Then you find out that really, it wasn't that bad after all!
I am finally getting to the point where I am not overly amazed that I can cook certain things ever since I joined groups like the Daring Bakers and Recipes to Rival. There are a ton of these types of groups online and if I joined them all I would probably be cooking something new everyday. Check out some of them by following some of the links on peoples food blogs. You might find a group that is right for you.
If you'd like the recipe for these
tamales with pork filling
, just click on the link.
Visit our new blogs:
Amoores.com
Cooked from the Heart - our new food blog
Our New Backyard - garden & photo blog
Found Not Lost - about all the things we 'find' worth talking about