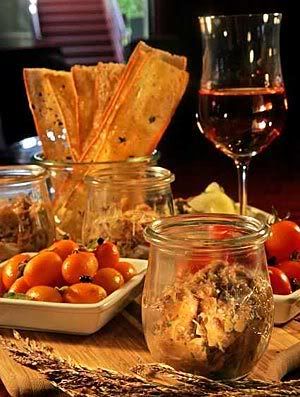 Photo by Anne Cusack / Los Angeles Times
POTTED: Lamb rillettes served in a glass pot with a basket of wafer-thin toasted bread at Palate Food + Wine in Glendale.
Have you ever heard of Rillettes? According to this
article from the L.A. Times
By Amy Scattergood, it's "
the new wave in L.A.'s charcuterie renaissance -- can be made of pork, game, poultry, fish or even vegetables.
"
What is it? In my simple translation, it sounds like potted meat. For one, it is served in pretty mason jars and served with toast or bread. How do you make rillettes? It's pretty simple according to the article:
To make rillettes, meats are first marinated or given a brief salt cure, then braised or confited (poached in their own fat) until very tender. The tender meat is then mixed with a bit of the reserved poaching liquid and fat, maybe a few herbs. That's it.

Packed into jars or terrines, loaf pans or ramekins, sometimes sealed with a layer of fat, they're stored in the fridge, where they can last for up to a week -- longer if sealed with a layer of duck fat or butter.
It actually sounds interesting. I just may try it out. Read the whole article,
Bring the bistro experience home with savory rillettes
and get additional tips on how to make it.
Visit our new blogs:
Amoores.com
Cooked from the Heart - our new food blog
Our New Backyard - garden & photo blog
Found Not Lost - about all the things we 'find' worth talking about