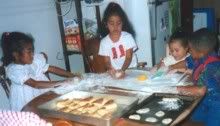 I have heard of moms who keep their children out of their kitchen. They have reputations of being great cooks and think that having too many cooks, their children included, in the kitchen will ruin the soup. What a shame. They are missing out on the best and memorable experiences of childhood and motherhood.

Well, my children are all over OUR kitchen. My youngest daughter says we should name it the 'KIDCHEN'. When they have friends over, the first thing they want to do cook something so we all end up in the kitchen.

If you're unsure about what to do to entertain kids in the kitchen or out of it, a good resource is RD.com - Parenting, the online version of the iconic magazine, Reader's Digest. This was my mom's magazine of choice when we were growing up; now I know why and it is now mine too. There is so much information packed in such a little tome, it is a treasure!

The articles on food and nutrition always catch my attention of course, and I have put to practice a number of tips from the magazine. The RD.com - Family Life section has so many helpful information, tips and ideas that it keeps our activities as a family fresh and focused. I know some people think that being a parent should come naturally, that things 'just happen'. Well, they don't; and it helps to have something like Reader's Digest to spark some ideas and ask some questions we would probably won't even think of. I love it!