cooked by JADE

Yummy, I made a mothers day surprise for my mummy. A while ago I made this treat for my mom and for myself, since I absolutely looove pineapple cake. This time we tried something new though. We used Duncan Hines pineapple flavored cake instead of just the plain yellow cake. And I must say it was quite good. And it looked nice too...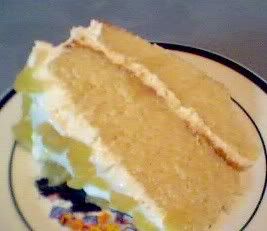 So here's how I made it:
1 box
pineapple cake mix from duncan hines
3 eggs
specified amount of water and oil
follow cooking directions on the package.
Frosting:
HOME DECORATING BUTTERCREAM ICING
from The
Wilton
Method of Cake Decorating Course
1 tsp. vanilla extract
2 Tbsp. water
1/2 cup solid vegetable shortening
1/2 cup butter
1 lb. confectioner's sugar ( I only used about 3/4 of the bag though - it was sweet enough)
Blend butter and shortening with an electric beater. Add the vanilla extract, water, and sugar and mix until well blended.
I used a small can of pinapple chunks for the decoration, drained.