Whew. I'm a little late with this post. A few nights ago we made mexican dinner again. I luv it. Anyways, I helped out by making my special bean dip. It's actually all quite simple, so here goes....

1 can of refried beans
Sour Cream
Shredded Cheese
Either homemade or storebought salsa (we used mom's homemade stuff)

Start with taking out a nice bowl that you are going to serve your dip in. Layer the bottom with as much refried beans as you'd like. Then layer some sour cream right on top of the refried beans. Sprinkle a nice amount of shredded cheese on top, however you might still want to see some of the sour cream, then you know you aren't laying it on to heavy. Remember to distribute evenly. Then spoon out some of your (prefferably chunky) salsa on to the top, again, distribute evenly and show some cheese. Whenever you make this you want to find a medium with the ingredients otherwise they break your chip real easy. Garnish with some cilantro if needed, and a few chips stuck in the side, and voila! Easy 5 minute dip!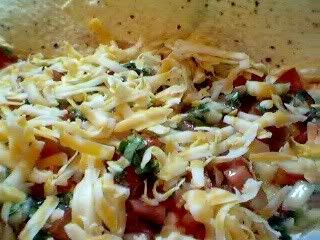 YUM!